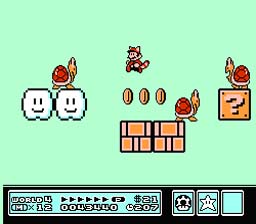 I pur­chased Super Mario Bros. 3 [watch some­one beat the game in 11 min­utes], The Legend of Zelda and Ice Hockey yes­ter­day for my 8 bit Nintendo Entertainment System. I first played a Nintendo soon af­ter it hit the mar­ket, on our fam­i­ly trip to Orlando Florida for Disney World and Sea World. I was prob­a­bly 5 or 6. I re­mem­ber stop­ping at an uncle's house, some sort of kin, maybe a great un­cle, I'm not quite sure. Anyway he had a Nintendo. I'd nev­er heard of the Nintendo, and I don't think I even knew what a video game was. I re­mem­ber play­ing Duck Hunt and maybe a lit­tle Excitebike and ab­solute­ly lov­ing it.
I nev­er had video games grow­ing up, un­til I saved enough mon­ey to buy a Gameboy in Junior High. I did man­age to mooch off of my cousins and my bud­dy Mario [no, re­al­ly.] who had all kinds of games. The rule was, you got to play the game un­til you had a game over and then you had to pass it on. This was frus­trat­ing for me be­cause the peo­ple who ac­tu­al­ly owned the games were much bet­ter and thus got to play much longer. I re­mem­ber watch­ing my cousin Chris play Super Mario Bros. 3 for 3 hours be­fore he ran out of lives, and lit­tle old me would play Tetris for 20 min­utes and have to pass the con­troller.
Eventually I moved in­to the realms of Playstation, again pur­chas­ing it my­self, as I've done with all my com­put­er games, but the love for Nintendo was still there. My ju­nior year of col­lege, I nabbed a Nintendo and a few games on Ebay and have been slow­ly build­ing the car­tridge col­lec­tion since. One of my teammate's hous­es off cam­pus had an old school Nintendo and Super Mario 3 bat­tles on a reg­u­lar ba­sis. I even man­aged to im­press them with my amaz­ing jump­ing abil­i­ties. I did man­age to ac­quire a mod­icum of skill at 8 bit Nintendo over the years, even though I'm no Wizard. Now, I have a bunch of stu­pid sports games, but I do have Super Mario/​Duck Hunt, Metroid [thanks Patrick!], Tetris, Section Z and the afore­men­tioned games. I still need a few key ones though. Double Dragon, Excitebike, Contra, 10 Yard Fight, Final Fantasy and Bubble Bobble. They will be mine, oh yes, they will be mine.
What is your fa­vorite line-up for Ice Hockey? I pre­fer one fat guy, one nor­mal guy and two skin­nies.