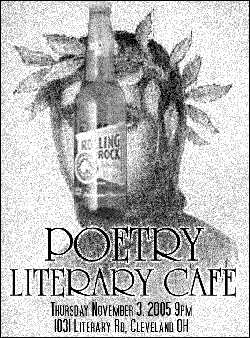 Last night was an open mic po­et­ry night at the Literary Café and over a dozen lo­cal po­ets showed up to do their thing. Many thanks should go to Steve Goldberg and Nick Traenkner for or­ga­niz­ing it, and to Andy and Linda for host­ing. R.A. Washington read, as did Steve Smith and Nick and Steve of course. Also read­ing were C. Allen Rearick, Everyman of Colorforms, Eric Alleman, Rebecca Calvetti, Kate Sopko, and Alexander Malina. If I missed any­body, I apol­o­gize. Hell, even I read a few. The crowd was pret­ty sup­port­ive of me and I know they liked at least two of the five po­ems I read. It was al­so very nice to see what oth­er peo­ple are do­ing with words. A few peo­ple read longer po­ems, some­thing I find it al­most im­pos­si­ble to write, and one po­et even had sin­gle sen­tence thoughts that sort of blend­ed to­geth­er in­to a long one. If there is an­oth­er one, I'm pret­ty sure I'll do it again. Being in close quar­ters with po­ets makes me want to write more.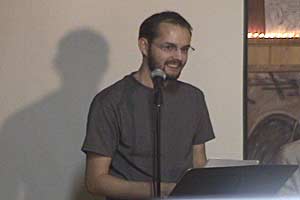 I gave the folks there the op­por­tu­ni­ty to pick my last po­em, since I split the oth­er four be­tween se­ri­ous stuff and children's po­ems. Here are the po­ems I read:
• Breaking Up is Hard To Do
• Dervish
• Haunted House [2nd ver­sion]
• Smober the Sock Goblin
• Cartography
And if you want to sift your way through all my po­et­ry, in­clud­ing tons of shit­ty stuff. It's all here. Also, you can watch me read Breaking Up is Hard to Do on the Lit's site, here.