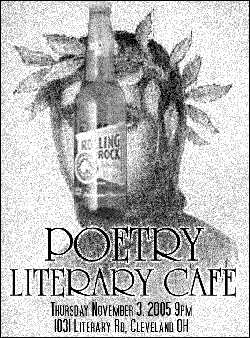 Last night was an open mic poetry night at the Literary Café and over a dozen local poets showed up to do their thing. Many thanks should go to Steve Goldberg and Nick Traenkner for organizing it, and to Andy and Linda for hosting. R.A. Washington read, as did Steve Smith and Nick and Steve of course. Also reading were C. Allen Rearick, Everyman of Colorforms, Eric Alleman, Rebecca Calvetti, Kate Sopko, and Alexander Malina. If I missed anybody, I apologize. Hell, even I read a few. The crowd was pretty supportive of me and I know they liked at least two of the five poems I read. It was also very nice to see what other people are doing with words. A few people read longer poems, something I find it almost impossible to write, and one poet even had single sentence thoughts that sort of blended together into a long one. If there is another one, I'm pretty sure I'll do it again. Being in close quarters with poets makes me want to write more.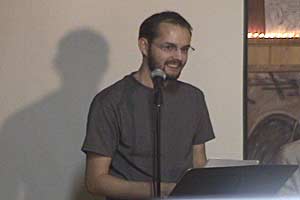 I gave the folks there the opportunity to pick my last poem, since I split the other four between serious stuff and children's poems. Here are the poems I read:
• Breaking Up is Hard To Do
• Dervish
• Haunted House [2nd version]
• Smober the Sock Goblin
• Cartography
And if you want to sift your way through all my poetry, including tons of shitty stuff. It's all here. Also, you can watch me read Breaking Up is Hard to Do on the Lit's site, here.