A part of this viewing list: Criterion Collection Spine #297: Robert Bresson's Au hasard Balthazar.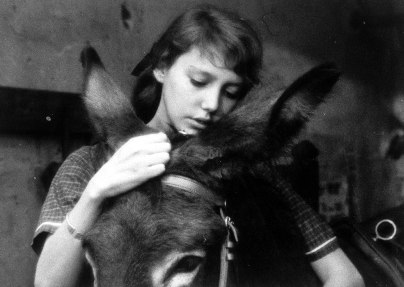 One would expect a painter-​turned-​filmmaker to have an eye for composition, and Bresson definitely exceeds that expectation. Throughout Au hasard Balthazar "shots as paintings" abound. This is the first film I've seen by Bresson, and before I watched it, I read up a bit on his style. I was somewhat leery of the efficacy of the spareness that was most often used to characterize his work. Too often you can run the risk of losing too much meaning by making the audience work for it. This, of course, is a bunch of hog swallop. Bresson, Bresson, Bresson, knows what the fuck he's doing. The spareness emphasizes and directs, he uses it as a tool, not a gimmick. It rules.
The story, as it is, concerns itself with the life of a donkey named Balthazar and with the life of a girl named Marie. They interconnect at times and mirror each other at times and ultimately [I think] speak of one main theme by using two opposing themes.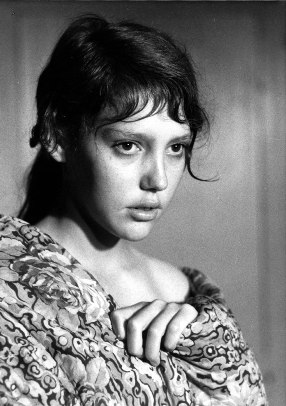 The first theme I want to talk about is the one based on the life of Marie. Why? Because she's hot. Because her story is more interesting. She grows up in a rather restrictive household and seems to be both shy and lonely. Her only friend is Balthazar until he is sold to the baker help pay the bills. A young punk named Gérard, who delivers bread, wants to pork Marie and accosts her on a quiet road. She wants nothing to do with him but eventually submits and then becomes his steady shag. She then becomes emotionally dependent on his abusive company and looks to him to give her protection. The first time she obviously comes to him in need [after being thrown out of her home] he drops her like a dime and gets up with some other girl. She leaves, in the rain, and stops at the miser's house in search of someone else to protect her. He ends up offering her his money for sex [implied] and she ends up sleeping with him after giving it back. Her childhood love, Jacques is willing to forgive these indiscretions and marry her, even after she is gang-​raped [again implied] by Gérard and his minions, but Marie literally disappears from the rest of the film.
Balthazar has a similar path, being shuttled around as chattel from one brutal owner to another. The christological symbolism is rife. Essentially the story is an allegory of Christ's life, but with additional tangents that make it into much more than just allegory. Balthazar is tortured, burned, beaten, exploited and his native intelligence is suppressed by the dumb brute work that he is subjected to. In the end, he dies with the sins of humanity on his back [black market goods], a gunshot wound in his chest, in a shepherd's field, surrounded by sheep.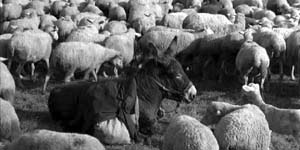 Balthazar and Marie live similar lives, without agency, at times seeking it, but ultimately unable to make it stick. Yet in the end, Balthazar retains his basic gentleness and innocence and Marie becomes both hopeless and manipulative. Like Sword of the Beast we see that humanity is often easier found in critters than in Man.
• Criterion Essay by James Quandt
• Masters of Cinema Review
• Foreign site with many stills [scroll down]
• Strictly Film School Review