A part of this view­ing list: Criterion Collection Spine #5: François Truffaut's Les Quatre cents coups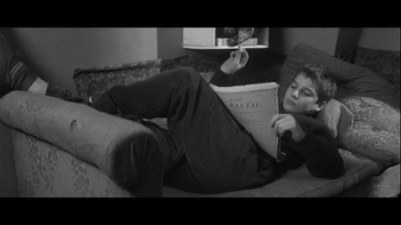 This is only the sec­ond time I've seen The 400 Blows. It is pretty much con­sid­ered the ur-film of the French New Wave which means, un­for­tu­nately, that its fresh­ness of tech­nique and sub­ject mat­ter are a bit lost by the vast ma­jor­ity of films made in a sim­i­lar vein since. Despite its now-ubiq­uity as a film class sta­ple, it re­mains strong, mainly be­cause of the fas­ci­nat­ing char­ac­ter that is Antoine Doinel.
Doinel is of­ten con­sid­ered to be a stand-in for Truffaut, which for me per­fectly ex­em­pli­fies the only real prob­lem I have with most French New Wave films. It shouldn't be sur­pris­ing that the director's pres­ence is so ev­i­dent, com­ing hard on the heels of Truffaut's own de­vel­op­ment of au­teur the­ory; but to me the ob­ses­sion that FNW di­rec­tors have in mak­ing them­selves au­teurs tends to im­pede the other facets of the film­mak­ing, and al­most seems mas­tur­ba­tory.
That said, The 400 Blows would not suc­ceed as well as it does with­out Truffaut's own per­sonal ex­pe­ri­ence to drive and add nu­ance to the story. There is no doubt that he knew what he was do­ing, so steeped in the ven­er­a­ble tra­di­tion of Bazin [to whom the film is ded­i­cated] as he is. If any­thing would make me like film crit­i­cism more than film-mak­ing, Cahiers du cinéma could do it. But I'm still talk­ing about Truffaut, not the film, thus is the dif­fi­culty of deal­ing with a work that has be­come more about the man mak­ing it than the work it­self.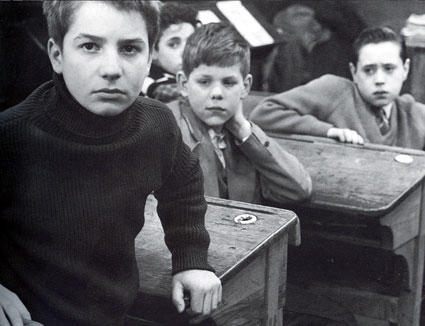 The 400 Blows is mainly a film about ado­les­cence, but it wouldn't be French with­out healthy doses of ex­is­ten­tial­ism and anomie as well. That's what I find most in­ter­est­ing. Antoine is the un­wit­ting ex­is­ten­tial hero, striv­ing for his au­ton­omy against a so­ci­ety that has no place for him. His very na­ture be­lies this quest, be­cause through­out the film he is merely re­ac­tionary. [When he reaches the sea and runs out of things to re­act against he fi­nally catches a glimpse of the hor­ror of true free­dom]. It al­most seems as if Truffaut is mak­ing a cor­re­la­tion be­tween ex­is­ten­tial au­ton­omy and anomie, and here ado­les­cence en­ters back into the pic­ture. The teenage years are an ex­tended lim­i­nal pe­riod cul­mi­nat­ing [for Antoine] in a choice be­tween ex­er­cis­ing his will to power or al­low­ing him­self to be crushed into a sys­tem that of­fers all stick and no car­rot.
There is a third choice, of course, re­main­ing in ado­les­cence for the rest of your life. We'll see what hap­pens with the rest of Truffaut's films about Antoine Doinel. I haven't seen them, but they are part of the Criterion List.
• Criterion Essay by Annette Insdorf
• Criterion Essay by Kent Jones
• The Criterion Contraption's re­view.