A part of this view­ing list: Criterion Collection Spine #300: Wes Anderson's The Life Aquatic with Steve Zissou.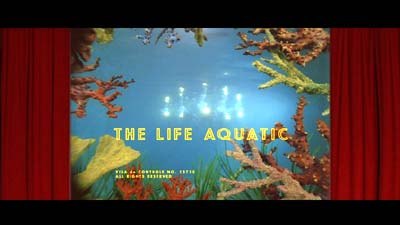 I don't like Wes Anderson films for the same rea­son I don't like Quentin Tarantino films and the same rea­son I don't like most of my po­etry. It is all too ref­er­en­tial. Yet, The Life Aquatic with Steve Zissou was en­joy­able enough, mainly be­cause many of the ref­er­ences were ac­tu­ally things I knew about [doc­u­men­tary film­mak­ing, David Bowie]. I still don't get his ap­peal though. I'll try to dis­miss my loathing for self-re­flex­ive-oblig­at­ory-oblique-retro-pomo-irony long enough to point out what I found ef­fec­tive in the film.
Steve Zissou is an oceano­graphic ex­plorer who makes doc­u­men­tary films of his ad­ven­tures, à la Cousteau. He is pos­tur­ing, ar­ro­gant, self­ish and emo­tion­ally dis­tant. His en­tire life has con­sisted of craft­ing and main­tain­ing a celebrity im­age; re­sult­ing in a man who has for­got­ten who he is in fa­vor of chas­ing af­ter the man he watches on screen. We con­stantly see the film­ing of his doc­u­men­taries; which are just as chore­o­graphed as Zissou's pri­vate life. In fact, Zissou has been in front of the lens for so long, he has for­got­ten that the cam­era isn't al­ways rolling. His de­sire for drama is born from an ex­tended slump in the re­cep­tion of his doc­u­men­taries.
It should be noted, how­ever, that while The Life Aquatic with Steve Zissou [the movie within the movie] is a rather ob­vi­ous send-up of re­al­ity tele­vi­sion, in its es­sen­tials it doesn't dif­fer from true doc­u­men­tary film­mak­ing at all. Real doc­u­men­taries are not the ob­jec­tive tes­ti­mo­ni­als that we in­stinc­tively be­lieve them to be. Things are shot and not shot, things that were shot are left out, com­men­tary is added in, the edit­ing gives the film some sort of syn­tax, and of­ten turns it into a nar­ra­tive.
The use of Kodachrome [at least, that's what it looks like to me] for the film within a film clips was nice, since I've al­ways liked how the warm col­ors pop out with that stock, and though the awk­ward fram­ing and dis­con­cert­ing cuts made me a lit­tle sea­sick, they did seem to strengthen Anderson's por­trait of Zissou as a man alien­ated from him­self. The Bowie trans­lated to Portuguese is an­other in­spired choice in this re­gard.
Yet with all of this stag­ing, the most im­por­tant parts of Zissou's story never get filmed. [That is, if we're watch­ing with a stan­dard view of spec­ta­tor­ship and as­sum­ing that the 4th wall still ex­ists and that TLAwSZ was made by Wes Anderson and not Steve Zissou mak­ing TLAwSZ about mak­ing TLAwSZ]. When he meets his son, when he fights off pi­rates, when he saves his neme­sis from pi­rates, when his son is killed in a he­li­copter crash…no cam­eras.
These con­stant blows, cou­pled with the dif­fi­cul­ties of fi­nanc­ing the film, even­tu­ally force Zissou to make peace with his in­ner demons, sym­bol­ized tan­gi­bly by the jaguar shark.
If we watch the film in House of Leaves mode and pre­tend that Wes Anderson didn't di­rect it and that Steve Zissou made a film called The Life Aquatic with Steve Zissou about mak­ing a doc­u­men­tary called The Life Aquatic with Steve Zissou, then noth­ing that we see in the film can be con­sid­ered non-fic­tion. Especially since his dead part­ner Esteban and dead son Ned both ap­pear on screen af­ter their deaths.
Ultimately I think this movie [and most Wes Anderson films] would suc­ceed a bit bet­ter if there were less at­tempts to say some­thing about every­thing as in­tri­cately and obliquely as pos­si­ble. To de­lib­er­ately mix some metaphors in a self-re­flex­ive-oblig­at­ory-oblique-retro-pomo-irony way, I think the mul­ti­ple paths of mean­ing both drown the oth­ers out and are weak­ened by their profli­gacy.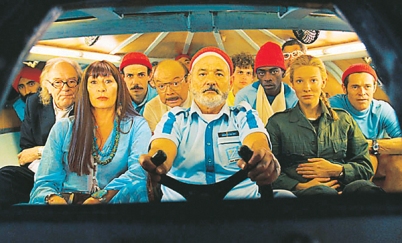 • DVDTalk Review of the film and the Criterion DVD
• New York Magazine story on Wes Anderson
• Cousteau​.org