A part of this view­ing list: Criterion Collection Spine #326: Whit Stillman's Metropolitan.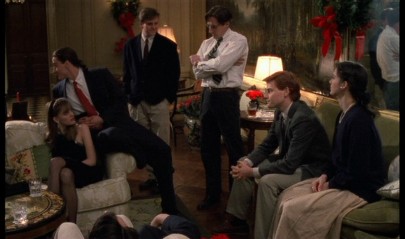 Metropolitan is a movie about the Urban Haute Bourgeoisie, debu­tan­tes and their es­corts, peo­ple who read lit­er­ary crit­i­cism but not the ac­tual books, and kids who ob­ses­sively worry about their own down­fall, de­bate the­o­ret­i­cal po­lit­i­cal sys­tems and don't know how to drive a car. I would de­test hav­ing even the slight­est con­tact with these peo­ple, who are es­sen­tially all talk and no fol­low-through. Yet I en­joyed Metropolitan and I'm glad it made me go men­tal.
Metropolitan is a movie about class, and though the only class present is the up­per-class, the "UC" as the char­ac­ters so smarmily refer to it, this fo­cused ap­proach ef­fec­tively made me ex­am­ine my own class sit­u­a­tion in a new light. Luc Sante's es­say, linked at the end of this post, says that America pre­tends that class doesn't ex­ist. I think this is close but not quite. I think many peo­ple who aren't con­sider them­selves to be mid­dle class. This makes sense, since mid­dle class can cover ground from some­one like me who makes less than $30k a year to some­one like a sur­geon, who might make twenty times as much. We're still peo­ple make ends meet by work­ing for our pay. In Metropolitan, dis­cus­sion cen­ters not on the ne­ces­sity of work to make ends meet, but on the choices of pro­fes­sion that should main­tain or strengthen their sta­tus as UHB. They don't need to work, but they need some­thing to fill the time.
The char­ac­ter that lets us [mid­dle-classers] en­ter in to this world is an ex-trust fund kid who, af­ter his par­ents' di­vorce, has be­come one of the mid­dle class. In this movie, one is never poor, only "fi­nan­cially lim­ited." But Tom's fi­nan­cial in­ad­e­quacy is bla­tant. He has a rented tuxedo and can't af­ford a great­coat to keep off the chill of Manhattan win­ter. His parent's are also di­vorced, an­other mid­dle class dis­tinc­tion. Yet he went to prep school and has the right pedi­gree in all other as­pects. In fact, just hav­ing a pedi­gree helps him enor­mously. Some folks think he is a fake, but as the film de­vel­ops we find that, to some ex­tent, each char­ac­ter is play­ing the role of the UHB at the price of his or her own soul, and they're all fakes. Most im­por­tantly we learn that Nick, who seems to be the ul­ti­mate UHB, is closer to Tom than we re­al­ize.
This trig­gered all kinds of thought processses. I re­al­ized that I had been watch­ing the eco­nom­i­cally de­rived cul­tural as­pects of the up­per class, which func­tions like any other cul­tural base, with its own taboos, rites of pas­sage and eti­quette. This in turn made me ex­am­ine the cul­tural as­pects that have re­sulted from my own mid­dle class ex­is­tence. This is the main strength of the film, by show­ing us an­other class try­ing to fig­ure it­self out, we in turn ex­am­ine our own sta­tus and role. It al­most seems to in­di­cate that cul­ture does more to sti­fle true ex­pres­sions of self than ease in­ter­ac­tion with oth­ers. Perhaps this is merely an ef­fect of the ex­am­i­na­tion of the strictly con­trolled ex­clu­siv­ity of the UHB, but I found my­self re­lat­ing to al­most every male char­ac­ter in the film. It would be in­ter­est­ing to watch it with a woman to see if she feels the same in re­gard to the debs.
This film would be a good tag team with Spike Lee's Bamboozled for an ex­am­i­na­tion on how class and eth­nic­ity are knot­ted.
Tom also serves as a re­flec­tion of the movie it­self, which has be ap­pear high class while be­ing "fi­nan­cially lim­ited." I for­got to men­tion that.