A part of this view­ing list: Criterion Collection Spine #328: Louis Malle's Murmur of the Heart.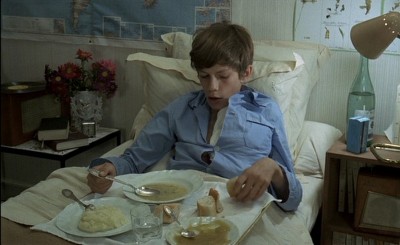 In the Criterion-as­so­ci­ated strange syn­ergies of my life I've had two sep­a­rate works in two sep­a­rate days that re­play the story of Oedipus and his mother in new fash­ions. First, Murakami's Kafka on the Shore, in which the 15 year old pro­tag­o­nist [might have] killed his fa­ther and def­i­nitely slept with his mother a few times and now Malle's Murmur of the Heart in which the 14 year old main char­ac­ter has no love for his fa­ther and sleeps with his mother once. In these works, the rev­e­la­tion of the act is a precipice that al­lows for res­o­lu­tion. For me, the par­tic­u­lars aren't im­por­tant, but the man­ner of the rev­e­la­tion and the out­come of the act are. I don't think this just ap­plies to in­cest, but to any turn­ing point in a nar­ra­tive.
The man­ner and mech­a­nism is pre­med­i­tated by the au­thor. The out­come is the character's re­ac­tion to what has oc­curred. Very dif­fer­ent func­tions.
In Murmur of the Heart, Malle uses a ma­jor­ity of the film to set-up an event that is noth­ing more than a sim­ple edit. Yet that cut has the force of nearly two-hours of ex­po­si­tion be­hind it and is all the more pow­er­ful for its brevity. For Laurent, it serves as a suc­cess­ful spring­board into adult­hood in a film filled with un­suc­cess­ful at­tempt af­ter un­suc­cess­ful at­tempt. The film re­called American Beauty in form and func­tion, and while the Oedipal stuff is miss­ing from that film, the same mid­dle-class dis­sat­is­fac­tion that plagues Kevin Spacey's char­ac­ter also fills Laurent's mother. Her hus­band and her lover make no at­tempts to un­der­stand her, and Laurent seems to do so un­con­sciously. She comes to un­der­stand him and his un­der­stand­ing of her, and their love scene mir­rors this change; from a child and mother cud­dling, to a [n al­beit] young man and a woman who love each other.
It al­most seems ap­pro­pri­ate that Laurent, whose whole life has been guided by his mother's eye and his nascent adult­hood al­most smoth­ered by her at­ten­tion is "made a man" by her. His agency be­comes more and more fo­cused as the film pro­gresses, and af­ter he fi­nally com­pletes the sex act, he seems much more com­fort­able in his own skin. The film is per­me­ated with great jazz mu­sic [which has been sig­nif­i­cantly white­washed in re­cent times] that re­tains seeds of the shock­ing sex­ual frank­ness and dan­ger that early jazz was as­so­ci­ated with. The end re­sult is a film that is a steady ex­po­si­tion of the pen­du­lous dan­gers of com­ing-of-age and also a strik­ing cri­tique of the in­ad­e­quacy of mid­dle-class fam­ily life.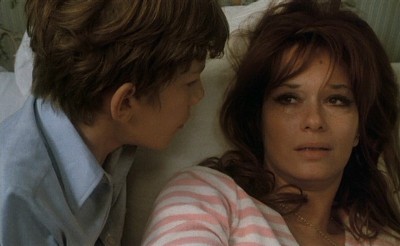 • Criterion es­say by Michael Sragow
• Official Louis Malle site