A part of this view­ing list: Criterion Collection Spine #160: René Clair's À nous la lib­erté.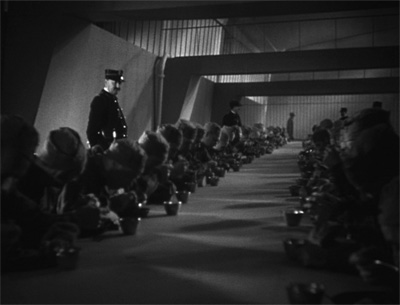 Ever since I first saw this film a few years ago its cheery theme song comes back as an ear­worm at least once a month. "À nous, à nous, la li-ber-té!" While it is no longer roll-on-the-floor hi­lar­i­ous, it is still a light-heart­ed and en­joy­able jaunt through an ide­al­ized, not-yet-cyn­i­cal 20th cen­tu­ry in­dus­tri­al en­vi­ron­ment. I promise not to fill this re­view with hy­phens, al­though it might al­ready be too late. Even if Clair made the film to­day it still might be bereft of the cyn­i­cism, so po­tent is the joie de vivre of the main char­ac­ters. The plot is rel­a­tive­ly sim­ple, two friends at­tempt to es­cape from the pen, but on­ly one makes it, and be­comes a suc­cess­ful in­dus­tri­al­ist. Years lat­er his yuro­di­vy friend ends up work­ing in the same fac­to­ry, even though he'd rather be nap­ping in a field of wild­flow­ers. They rekin­dle their friend­ship, by ac­ci­dent, but the cen­ter can­not hold as oth­er crim­i­nals try to black­mail the es­caped con/​industrialist.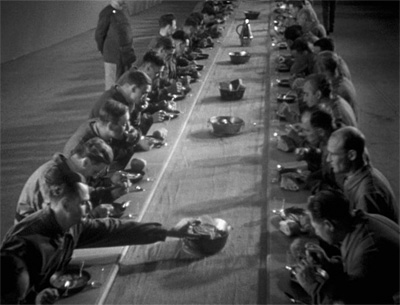 He man­ages to stave off this doom long enough to be­queath his en­tire cor­po­ra­tion to the work­ers and es­capes with his friend in the en­su­ing windstorm/​riot. In a reprise of the theme song at the end, both friends are hap­py as wan­der­ing bums, free as the wind and with as few cares.
While the core of the plot re­quires lit­tle to think about [as the core of the film is com­e­dy] its ap­pendages are open to many read­ings. Throughout the film, com­par­isons are made be­tween prison life and fac­to­ry life, which you can see in the first two screen shots I've pro­vid­ed. Initially all the ref­er­ences to free­dom are made by peo­ple who are, in some way, not free at all. The song is yearn­ing and mo­ti­va­tion­al at these points as op­posed to its func­tion as a hymn of re­joic­ing in the end. While the film has an un­miss­able so­cial­ist fla­vor to it, it is less a cri­tique of au­thor­i­ty than a doc­u­ment of man's ten­den­cy to ob­sess about or­der, even un­to the loss of free­dom.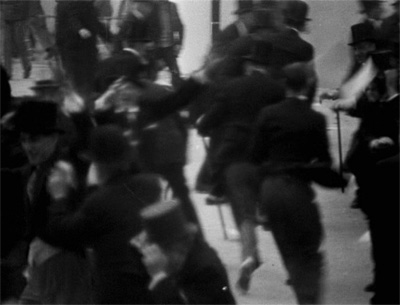 Even as an in­dus­tri­al­ist, Louis, is re­strict­ed by the ex­pec­ta­tions of his syco­phants, the need to con­form to the be­hav­ior that oth­er wealthy peo­ple ex­pect, and his past. He has man­aged to drug him­self with his wealth and it takes the re­turn of Emilé to re­mind him that life is not about be­ing im­por­tant, but about be­ing hap­py and free. This recog­ni­tion like­ly pro­vides the in­spi­ra­tion he has to give the new­ly au­to­mat­ed fac­to­ry over to the work­ers, who can now spend their days bowl­ing, play­ing cards, fish­ing or danc­ing in­stead of mak­ing phono­graphs. Despite its fo­cus on free­dom, the film isn't re­al­ly ex­is­ten­tial­ist, since it equates free­dom with a lack of re­spon­si­bil­i­ty in­stead of free­dom as re­spon­si­bil­i­ty it­self.
It is claimed and de­bat­ed that this film was the inspiration/​plagiarized for Chaplin's Modern Times, but I think that whole dis­cus­sion is miss­ing the point; that in the con­text of the age, there was a need for films as specif­i­cal­ly sim­i­lar as these to be made. Socialism and the as­sem­bly line were rel­a­tive­ly new and fresh ideas, ripe with promise and ex­pec­ta­tion. What René Clair cre­ates in À nous la lib­erté is an al­loy of the two, where au­toma­tion leads to utopia and free­dom for all. Despite the now-ob­vi­ous er­rors in his idea, À nous la liberté's hope for the fu­ture and zest for free­dom re­main in­spir­ing even 75 years lat­er.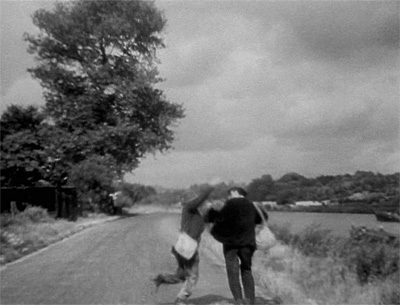 • Criterion Essay by Michael Atkinson.
• DVD Journal es­say by Mark Bourne.
• Senses of Cinema ar­ti­cle by John Flaus.
• DVD Verdict es­say by Barrie Maxwell.
• YouTube clip [a bit sketchy at the be­gin­ning, but set­tles out].