A part of this view­ing list: Criterion Collection Spine #56: Alfred Hitchcock's The 39 Steps.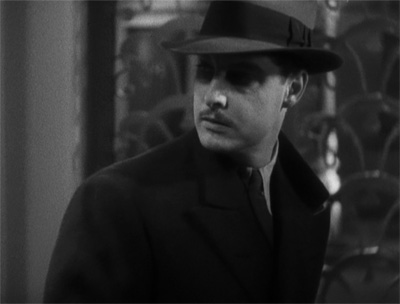 I would like to pref­ace this re­view by say­ing that Marian Keane's Criterion Essay linked at the end is go­ing to be much bet­ter than any­thing I will write here. The 39 Steps is my fa­vorite Hitchcock film, made when he was still in Great Britain. In many re­spects his lat­er work in The Lady Vanishes is re­lat­ed to this film. I have pro­vid­ed more than my usu­al num­ber of screen­shots be­cause there were so many strik­ing ones in this film. Some of the best can­not be re­pro­duced in still pho­tos, be­cause the cam­era move­ment is the re­al star. I'm an un­abashed fan of Hitchcock's ear­li­er works, pos­si­bly be­cause of their qual­i­ty in spite of bud­get and the British Board of Film Censors.
The plot of The 39 Steps is cen­tered around a Canadian in Great Britain who be­comes em­broiled in a spy ring and is wrong­ly ac­cused of mur­der. With on­ly one clue and a tal­ent for on-the-spot sto­ry-telling, he flees to Scotland from the cronies of a man with a short­ened pinky fin­ger in or­der to track down a Professor who turns out to have a short­ened pinky fin­ger. You see, they are try­ing to trans­port a gov­ern­ment se­cret about a new plane out of the coun­try to an un­named for­eign pow­er. Of course, you don't find out about this un­til the last minute or two of the film, in typ­i­cal Hitchcockian sus­pense mode.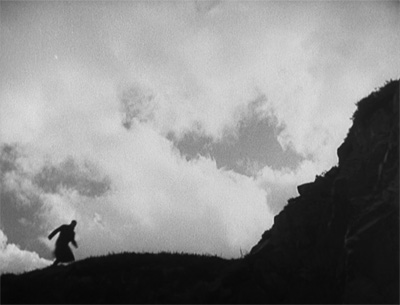 Along the way, the Canadian Richard Hannay keeps bump­ing in to this blonde woman who keeps turn­ing him over to the police/​spies from which he keeps es­cap­ing. Even in the most se­ri­ous of scenes Hitchcock man­ages to place lit­tle bits of hu­mor such as this to light­en the in­ten­si­ty of the ac­tion. And it isn't the same sort of hu­mor at every point, some is low-brow, some comes from awk­ward sit­u­a­tion com­e­dy and there is plen­ty of wry wit from the pro­tag­o­nist him­self.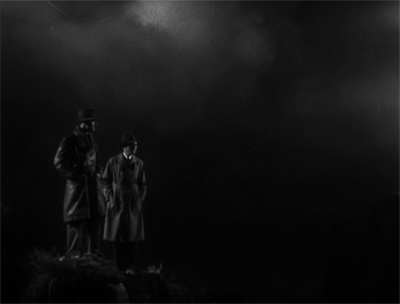 Most peo­ple think hor­ror when they think Hitchcock, but it is mys­tery and sus­pense that are the bread and but­ter of his films. The deft­ness with which these traits are met­ed out in The 39 Steps, cou­pled with Hitchcock's abil­i­ty to add a twist right when we think the sus­pense is go­ing to be sus­pend­ed make the film in­ter­est­ing at every mo­ment. The char­ac­ters we meet, though on­ly briefly, have last­ing im­pacts through­out the film, and the most in­nocu­ous of items or ac­tions cre­ate a sim­i­lar rip­ple ef­fect. It takes a spe­cial sort of di­rec­tor to so eas­i­ly rough­en the wa­ters and sub­se­quent­ly still them and have a good time while do­ing it. Thankfully Hitchcock is that man.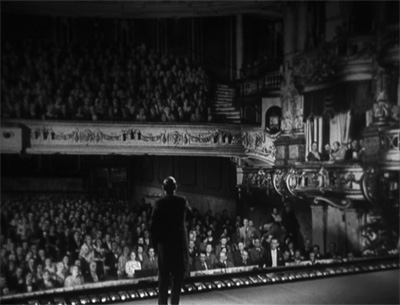 • Criterion Essay by Marian Keane.
• Detailed Film Site film re­view.
• Download the en­tire nov­el by John Buchan at Project Gutenberg.
• Hitchcock Online
• Dr. Macro has scans and WMV clips.