A part of this view­ing list: Criterion Collection Spine #252: John Cassavetes' Faces.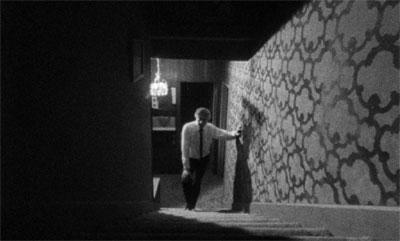 I think, maybe, that the cor­rect re­ac­tion [at least in terms of the re­ac­tion Cassavetes was aim­ing for] to Faces is sup­posed to be loathing. It is a long, tor­tur­ous jour­ney through the dark­est parts of mar­ried adult life, and there are no re­deem­ing qual­i­ties to any of the char­ac­ters that I can see. Granted, there is per­se­ver­ance and forth­right­ness, but it only serves to feed the de­struc­tive paths all the char­ac­ters tread.
There is a ba­sic ten­dency in chem­istry that liq­uids and gases flow from ar­eas of higher den­sity to lower den­sity; hypo- to hy­per-. This ten­dency holds true in Faces as well, but with the ad­di­tion of hu­man in­stinct and in­tent; a dan­ger­ous com­bi­na­tion. Dickie, Louise, Chet, Jeannie, every­one feels emp­tied of mean­ing or ful­fill­ment, yearn­ing for the days of their youth, or the golden years the never ex­isted. Florence is prob­a­bly the best ex­am­ple of this in the film; old, dumpy and des­per­ate, she throws her­self at Chet and begs to be kissed, any­thing to feel a bit alive again.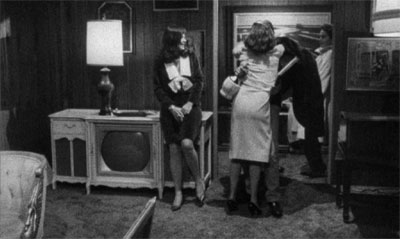 The forced, rau­cous laugh­ter, the end­less drink­ing and smok­ing, the chiaroscuro light­ing and stac­cato im­pro­vi­sa­tional di­a­logue ef­fec­tively force the viewer to face their in­ner dis­af­fec­ta­tion while the char­ac­ters on­screen con­tin­u­ally man­age to avoid this very con­fronta­tion. My mother watched most of this with me, and she talked about how tragic every­one seemed. She didn't know which would be worse, whether Dickie and Maria split apart or stuck it out to­gether in the end. She ex­pected a sui­cide, but made no men­tion of mur­der, so while she didn't state it ex­plic­itly, I think she caught on to the fact that every­one is far too self-cen­tered-ob­sessed to con­sider harm­ing any­thing other than them­selves.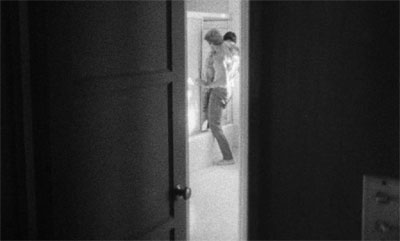 So while I still never re­ally want to see Faces again, I guess I have a re­spect for it now. It is a pas­sion play with no pulled punches, frank and un­com­pro­mis­ing. True to Cassavetes' form there is lit­tle flash and glit­ter, only true to life ex­pe­ri­ences, most of which, in this film, deal with the seamier side of things.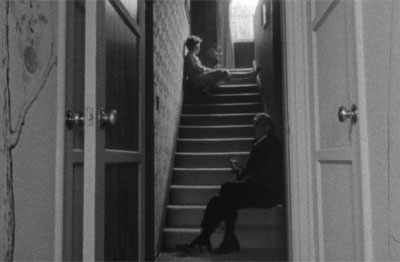 • Criterion Essay by Stuart Klawans.
• Ron Carney on Faces.
• Strictly Film School re­view.
• Senses of Cinema ar­ti­cle.
• A few sce­nes from Faces on YouTube 1, 2, 3.