A part of this view­ing list: Criterion Collection Spine #196: Alain Resnais's Hiroshima mon amour.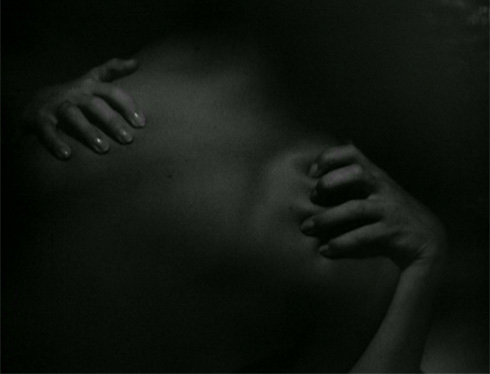 Rien is, per­haps, the most beau­ti­ful word in French. In Hiroshima mon amour such words of empti­ness and loss echo through­out. The open­ing se­quence in par­tic­u­lar is stun­ning for its evo­ca­tion and di­a­logue; it is so full of im­pli­ca­tion that the viewer im­me­di­ately suc­cumbs to its in­ten­sity. Two post-coital lovers, one Japanese, one French, are de­bat­ing the epis­te­mol­ogy of Hiroshima. The di­a­logue is sim­ple but the evo­ca­tion com­plex; rais­ing ques­tions as star­tling as: Is em­pa­thy ul­ti­mately a form naïveté? What does it mean to claim to have seen Hiroshima, a thing that the Japanese man em­phat­i­cally de­nies is pos­si­ble? During this dis­cus­sion he im­ages on screen are at­tempt­ing to show us Hiroshima, and al­though it would seem they are re­fut­ing the Japanese man's point, they em­pha­size it — show­ing what used to be Hiroshima — the sub­tle con of au­then­tic replica. The jux­ta­po­si­tion con­tin­ues when the woman de­scribes flow­ers bloom­ing in Hiroshima while the screen shows stock footage of ra­di­a­tion hor­rors, crum­pled build­ings, lame dogs, and peo­ple rot­ting alive. Even the con­stantly shift­ing score keeps the viewer from grasp­ing Resnais aim, which was prob­a­bly Resnais's aim, at this point in the film. The quicker the viewer is com­pletely un­bound from a sta­ble emo­tional state, the bet­ter.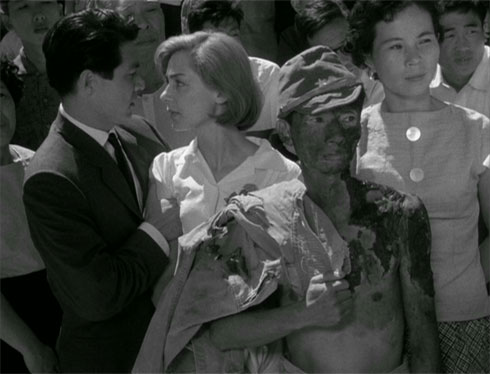 When the love story kicks in it is pos­si­ble to be­gin to un­der­stand why the di­a­logue sounds like po­etry; the char­ac­ters are near to burst­ing with pent up emo­tion. We know al­ready that the unimag­in­able and un­ex­pected power of the Hiroshima bomb has left in­erad­i­ca­ble marks on the Japanese man, but now we be­gin to sense [and glimpse] that there might be a sim­i­lar sit­u­a­tion in the woman's past. Getting to the meat of the in­quiry takes some dig­ging, the film has lev­els within lev­els, like an onion or a par­fait. It turns out that the woman is in town be­cause she's an ac­tress in a film about peace, a fact that is men­tioned a few times as if Resnais's rep­e­ti­tions are in­tended high­light an­other sort of self-re­flex­ive naïveté, Can a film about peace al­ter the truth of Hiroshima? As the staged peace pa­rade pro­ceeds, it is filmed as if it was a part of the film within the film; thus com­plet­ing the self-re­flex­ive cir­cle, Can Resnais make a film about peace that alter's the truth of Hiroshima?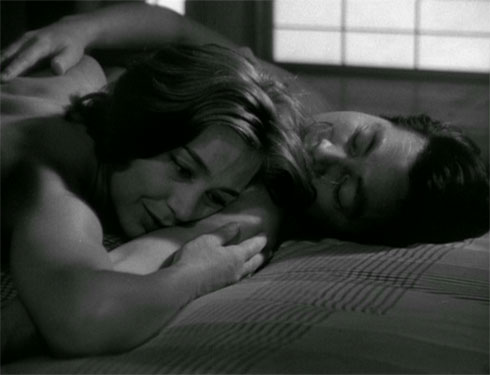 As the flash­back se­quences be­gin to un­ravel in long­shot, as coun­ter­point to the con­sis­tent close­ups that take place in real time, the fo­cus of the story be­comes less on Hiroshima and more on the woman's past as a French girl with a German lover in Nevers dur­ing the war four­teen years ago. Her trauma is more per­sonal, but no less dev­as­tat­ing than the man's. [There are de­lib­er­ately no names in this film.] It be­gins to come clear that maybe she did have her own pri­vate Hiroshima. As ter­ri­ble as this is, the true emo­tional toll con­tin­ues, she has be­gun to for­get the de­tails of her lover. The man refers to her as "the sym­bol of love's for­get­ful­ness." For him, the abil­ity to for­get Hiroshima is a source of re­lief, not the ter­ror that the woman feels in her loss of Nevers. She re­pels him but he pur­sues, an­other set of op­po­site re­ac­tions that oc­cur as they be­gin to un­der­stand each other. At the mo­ment of truth they name each other: Hiroshima and Nevers.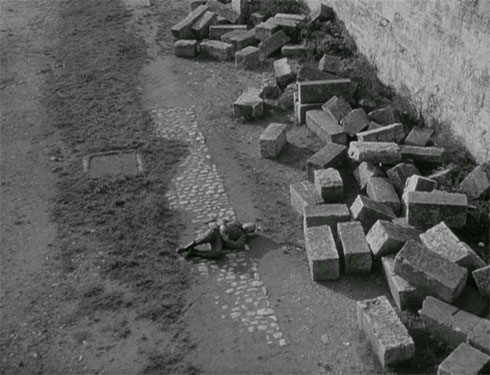 It would al­most seem that Resnais laid a false trail in the fas­ci­nat­ing open­ing se­quence and the ques­tions it raises. I think it was nec­es­sary for a few rea­sons. If we weren't hooked from the first bite, the movie would have ended up be­ing go­daw­fully bor­ing. But more im­por­tantly, the con­text it lays and the ap­par­ent mis­un­der­stand­ings and tough ques­tions be­come re­spec­tively in­ter­nal­ized and dis­carded as the true mean­ings emerge. I'm not go­ing to drop a moral at the end of this re­view like Aesop; that would be a dis­ser­vice to the film, which of­fers no ob­vi­ous moral. Just watch it and de­cide for your­self.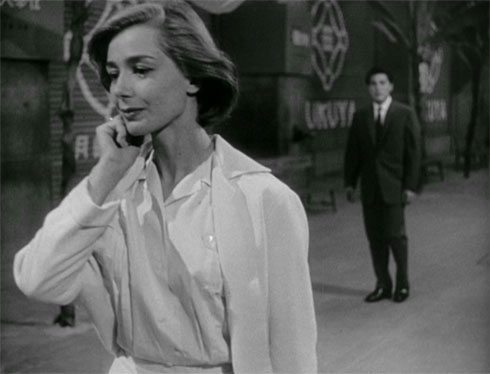 • Criterion Essay by Kent Jones.
• Name-drop­ping re­view at Pop Matters.
• Clips on YouTube: [1, 2, 3].