A part of this view­ing list: Criterion Collection Spine #315: François Truffaut's Shoot The Piano Player.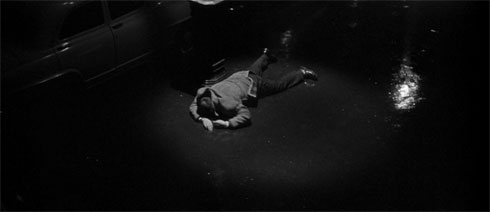 I on­ly have ten more films to re­watch in The Criterion Collection be­fore I can start watch­ing stuff I haven't seen be­fore again. I'm look­ing for­ward to that day. Here's a lit­tle con­text about Shoot the Piano Player. It is con­sid­ered part of the French New Wave, and its di­rec­tor, François Truffaut, one of the pre­mier nou­velle vague au­teurs. It is based on a pulp fic­tion nov­el by David Goodis called Down There. The film is much bet­ter than the nov­el. This is al­so one of those films that sends aca­d­e­mics in­to shark­like slaver­ing fits due more to its con­text than its qual­i­ty. That isn't to say it is a crum­my film. It is very en­ter­tain­ing, poignant, pol­ished and still fresh af­ter near­ly 50 years.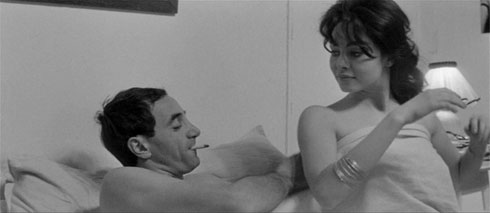 But the Möbius strip feed­back be­tween the film, its dif­fer­en­ti­a­tion as French film noir from American film noir, its self-aware­ness, its ob­vi­ous un­der­cut­ting of ex­pec­ta­tion, and its hu­mor lend the fo­cus more on Truffaut's di­rec­tion, the mech­a­nism, rather than the con­tent. That is re­al­ly on­ly to be ex­pect­ed, since the gen­er­al con­tent, apart from the afore­men­tioned un­der­cut ex­pec­ta­tions, is noth­ing re­al­ly new. Despite the fact that there is a sui­cide, a few mur­ders and some kid­nap­ping, a sort of dy­nam­ic equi­lib­ri­um is main­tained with brief philo­soph­ic in­ter­ludes and con­sis­tent hu­mor. The re­sult is a film that leaves a view­er sat­ed on all fronts, gorged or starved on none.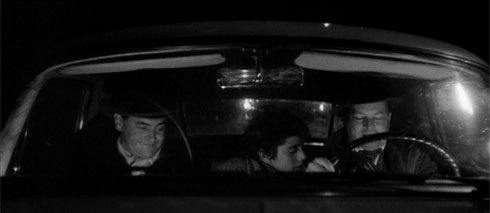 The most in­ter­est­ing char­ac­ter is, of course, the pi­ano play­er: Charlie/​Edouard. There is a re­mark­able amount of his char­ac­ter ex­po­si­tion in a film that is on­ly 81 min­utes long. At times the view­er is privy to his in­ner mono­logue, but ul­ti­mate­ly he re­mains a mys­tery and his ob­ses­sion with the pi­ano a si­mul­ta­ne­ous bless­ing and curse. Still, this un­solved mys­tery doesn't leave any dis­sat­is­fac­tion, as it is ob­vi­ous that Charlie is con­tent with his lot, as long as there is a pi­ano with­in fin­ger range. Charlie re­minds me of this open­ing pas­sage:
Current-borne, wave-flung, tugged huge­ly by the whole might of the ocean, the jel­ly­fish drifts in the tidal abyss. The light shines through it, and the dark en­ters it. Borne, flung, tugged from any­where to any­where, for in the deep sea there is no com­pass but near­er and far­ther, high­er and low­er, the jel­ly­fish hangs and sways; puls­es move slight and quick with­in it, as the vast di­ur­nal puls­es beat in the moon­driv­en sea. Hanging, sway­ing, puls­ing, the most vul­ner­a­ble and in­sub­stan­tial crea­ture, it has for its de­fense the vi­o­lence and pow­er of the whole ocean, to which it has en­trust­ed its be­ing, its go­ing, and its will.

-Ursula K. LeGuin The Lathe of Heaven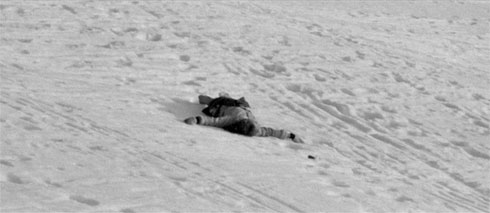 While Charlie isn't quite as pas­sive as a jel­ly­fish, he does have a cer­tain sto­ic ac­cep­tance of the sit­u­a­tions he finds him­self in. The on­ly time he is vis­i­bly ag­i­tat­ed is when Lena is in dan­ger. The rest of their char­ac­ters play their parts, so it re­al­ly is the man­ner of the film-mak­ing, the gim­mick shots, the sight gags, the un­der­cur­rent of smar­tassed French hu­mor that gives the film its pep.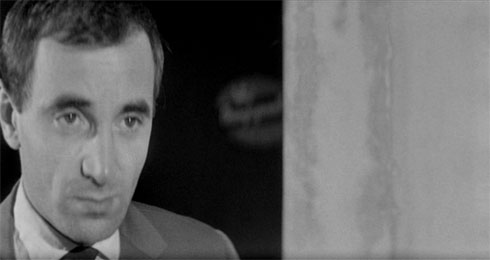 • Criterion Essay by Kent Jones.
• Carter B. Horsley Review.
• Tom Huddleston Review.
• Pulp cov­er of David Goodis's Down There.
• YouTube clips [1, 2].