A part of this view­ing list: Criterion Collection Spine #67: Jean Cocteau's The Blood of A Poet.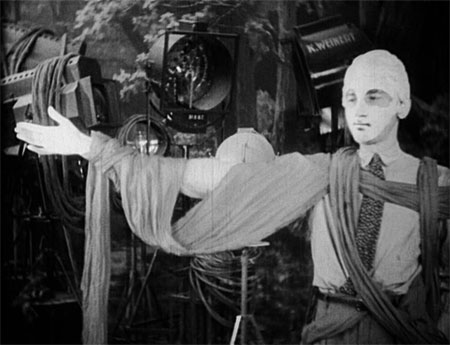 At first, this film seemed im­pen­e­tra­ble to me. It only clocks in at 50 min­utes, but the film is so filled with a need for in­ter­pre­ta­tion that "preg­nant" doesn't even be­gin to de­scribe it. Jean Cocteau ex­plic­itly states that the film is an al­le­gory [or sev­eral of them] about the the mean­ing of art both time­lessly and in the age of me­chan­i­cal re­pro­duc­tion. I've very de­lib­er­ately not read any­thing about this film [I will once I've fin­ished this re­view, you­betcha] but I sus­pect that Cocteau was wrestling with his own artis­tic thought-demons and upon com­ple­tion, he de­cided to ex­press them per­son­ally, and ul­ti­mately fa­tal­is­ti­cally in this film.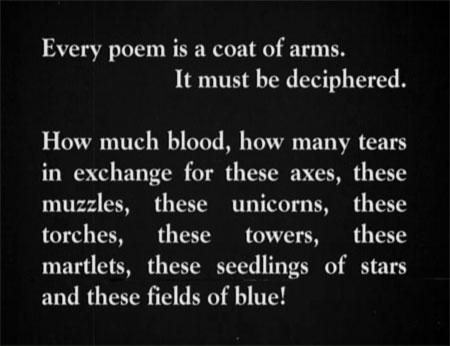 A few in­ter­ti­tles set the stage early on, as an artist is work­ing on a draw­ing of a statue in his room. The mouth of the draw­ing comes to life and ends up get­ting at­tached to his hand and pos­sess­ing it. It de­mands air, makes out with him, fondles his body and prob­a­bly gives him a blowjob [a cut makes this part merely im­plied, at least to me]. Eventually the artist/​poet ends up go­ing through the look­ing-glass and into his own [and since he stands for Cocteau, Cocteau's] mind. His mind hap­pens to be a hotel hall­way and as he peeks through the key­holes he glimpses styl­ized and dis­turbing things.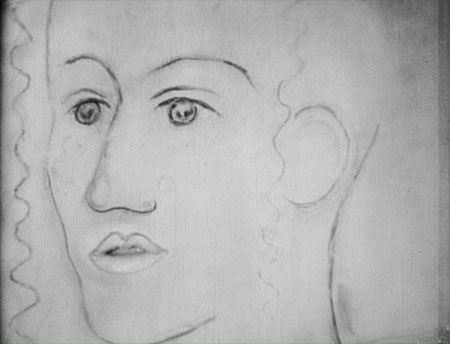 The film is quite vi­o­lent, much of which is ex­pressed with the char­ac­ter­is­tic Cocteau in­ven­tive­ness. He was cer­tainly a spe­cial ef­fects ge­nius. Since much of this vi­o­lence ap­pears to be an in­ter­nal­ized man­i­fes­ta­tion of the artist's mind, it shouldn't be sur­pris­ing that there is an equal amount of de­viant sex­ual be­hav­ior as well, a child dressed in bells is whipped, an opium den is viewed in sil­hou­ette, a her­maph­ro­dite gives a peep-show, not to men­tion the afore­men­tioned hand/​blowjob.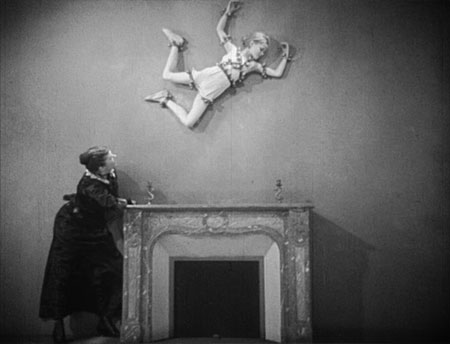 The statue's con­trol of the artist/​poet sug­gests that it rep­re­sents a Muse, but a rene­gade one who doesn't play by the rules. She is out to teach a lesson; though art may pos­sess and provide grandiose and won­der­ful and world-chang­ing pos­si­bil­ity to the artist, some­thing of ex­treme solem­nity; to oth­ers it will likely be just friv­o­lous en­ter­tain­ment. And, ul­ti­mately, the im­por­tance of the art will not mat­ter, it will be de­stroyed, ig­nored, dis­in­te­grated, or for­got­ten. Cocteau even in­di­cates that im­mor­tal­ity is not to be de­sired… "the mor­tal te­dium of im­mor­tal­ity."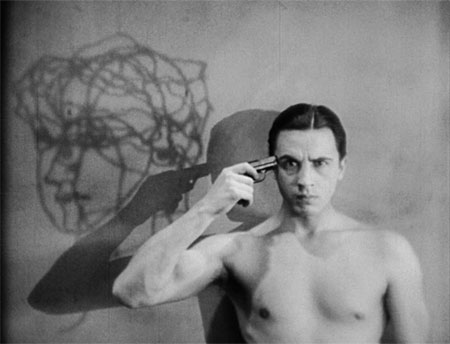 Effectually, the film is an at­tempt to ren­der po­etic words unto im­ages, and to me it seems to be more doc­u­ment than fa­ble, Cocteau of­fers no easy so­lu­tions. Especially since the artist/​poet com­mits sui­cide twice dur­ing the film. Stars, wire­frames, pas­sages, voyeuris­tic glory ever­last­ing, de­nial, lar­ceny and pow­er­less­ness all in­ter­twine to present a two-fold mean­ing [at least] for the Blood of a Poet. The blood is his art, and art de­mands a poet's blood.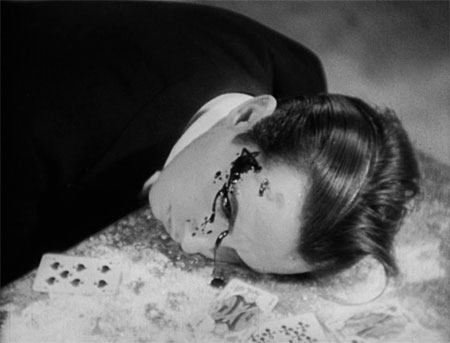 • Criterion Essay by Jean Cocteau.
• Brief re­view at Netcomuk [and much more Cocteau].
• Senses of Cinema re­view.
• MovieMartyr re­view.
• YouTube clip of a good trick shot.