A part of this view­ing list: Criterion Collection Spine #312: Masahiro Shinoda's Samurai Spy.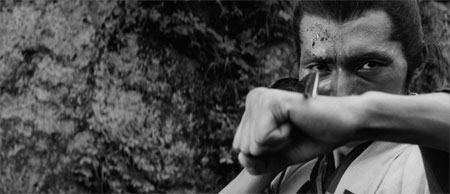 Like any good spy movie, most of the time in Samurai Spy the viewer doesn't know who is who, who is what and who is where. This is good. The film also has a bit of an Ian Fleming flair to the whole af­fair; spies bang­ing other spies for in­for­ma­tion, for ex­am­ple. The film also re­minded me very much of manga; it ap­pears that Shinoda used tele­photo lenses quite of­ten, re­sult­ing in shots that feel com­pressed al­most to two-di­men­sion­al­ity. The cam­era crew must've been sim­ply amaz­ing though, be­cause there are many shots that re­quire ex­act ad­just­ments of fo­cus nearly in­stan­ta­neously, and just as many long-takes which start out in a com­pressed long shot, but end in close-up. The cam­era isn't mov­ing, just the ac­tors. The film is beau­ti­ful and worth watch­ing sim­ply for the shot-fram­ing, cin­e­matog­ra­phy, and cam­era work. A mas­ter­piece of tech­nique.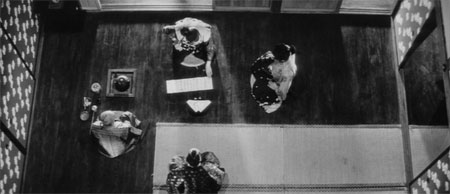 I think this film is also the first old Japanese film I've seen that uses spe­cial ef­fect tech­niques that films like Crouching Tiger Hidden Dragon owe a strong debt to. When they want to, samu­rai and ninja move ab­solutely silently, thanks to a lack of sound track and the tac­ti­cal use of Foley to ren­der other am­bi­ent sounds. This works at all points, ex­cept once, where Sasuke jumps onto a roof and we see the tiles shake and dust arise, but hear noth­ing. Pretty much all of the char­ac­ters have a su­per­nat­u­ral jump­ing abil­ity that goes along with their stealth. These stunts are ridicu­lously cool, even 40+ years af­ter their film­ing; thanks in part, to more care­ful work with shot se­lec­tion and edit­ing.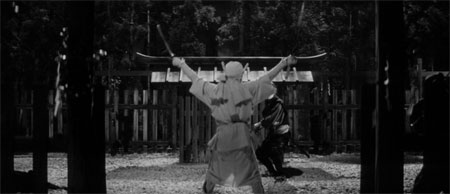 The story is more sat­is­fy­ing than many spy films as well. The per­se­cu­tion of Japanese Christians plays a small but im­por­tant role through­out the film; and Sasuke's sta­tus as a third-party samu­rai rep­re­sen­ta­tive of a rel­a­tively neu­tral clan, is a new and wel­come an­gle on the of­ten over­played Toyotomi/​Tokugawa ri­valry. I've con­sis­tently re­ferred to this film as a spy film, and not a samu­rai film, mainly be­cause it is so dif­fer­ent than most samu­rai films. There is no fo­cus on honor, forth­right­ness and fair play that are typ­i­cal virtues of a samu­rai film. In Samurai Spy, al­though it is a pe­riod piece, the un­scrupu­lous na­ture of every spy [Sasuke ex­cepted] gives it a dis­tinctly mod­ern feel. Sasuke him­self isn't a typ­i­cal hero, his cyn­i­cism re­gard­ing the "pre­car­i­ous peace" he has lived with for half his life also pro­vides a cer­tain per­spec­tive un­bound by clan loy­alty. Because of this, he is able to suc­cess­fully nav­i­gate his way to safety, leav­ing a trail of dead on both sides be­hind him. For a man who feels that vi­o­lence should be avoided, this might seems strange, un­til you re­al­ize that those that die on his sword did so of their own choice.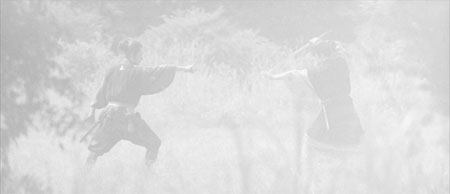 • Criterion es­say by Alain Silver.
• Criterion es­say by Chris D.
• Kung Fu Cinema Review with stills.