A part of this view­ing list: Criterion Collection Spine #360: William Greaves's Symbiopsychotaxiplasm.
Symbiopsychotaxiplasm is most in­ter­est­ing to me be­cause it is a ex­per­i­ment in which, for the most part, the peo­ple in the film know they are be­ing ex­per­i­ment­ed up­on and then be­come par­tic­i­pants in the ex­per­i­ment them­selves. It is un­con­trolled metafilm­mak­ing that de­fies anal­o­gy by its sheer com­plex­i­ty. It is dif­fi­cult to tell who is be­ing au­then­tic, who is act­ing, and just where the line be­tween doc­u­men­tary and fic­tion stands. My fa­vorite film pro­fes­sor prob­a­bly loves this movie. Filmed in the sev­en­ties, it used egre­gious amounts of film, sev­er­al si­mul­ta­ne­ous­ly-film­ing cam­eras and a bunch of crap­py ac­tors con­stant­ly re­tak­ing an overblown, lurid and poor­ly writ­ten psy­chodra­ma.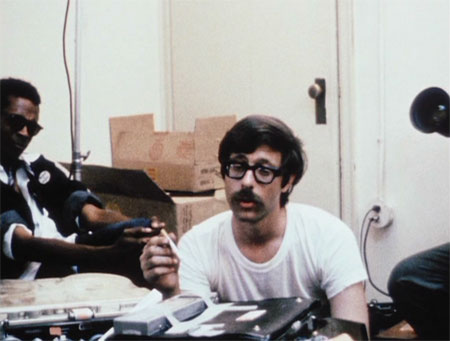 Whether this is all de­lib­er­ate or not is, ini­tial­ly, un­known. In fact, whether or not the whole film is script­ed is or not is un­known. It might just be an ex­cel­lent faux-doc­u­men­tary. Suspicions of this are con­stant­ly raised, es­pe­cial­ly when one of the crew mem­bers says some­thing along these very lines, that the au­di­ence has no way of telling whether they are le­git­i­mate­ly se­cret­ing them­selves as an act of de­fi­ance, or if Greaves is just off screen di­rect­ing them. The sin­cer­i­ty of Greaves on-screen per­sona is al­so called in­to ques­tion by the crew, it is said that he doesn't act they way we see when the cam­eras are not rolling. One of the crew­men says that he hasn't read the con­cept so many times, and is nonethe­less so per­spi­ca­cious that he must be ly­ing. The crew scenes are the best parts of the film and it is cer­tain­ly ear­ly re­al­i­ty-TV, and a bit like Project Greenlight, al­beit un­guid­ed and de­cid­ed­ly in­de­pen­dent. The film be­ing filmed is sup­posed to be about sex, but in the crew dis­cus­sions be­comes more about what con­sti­tutes be­liev­able screen­writ­ing.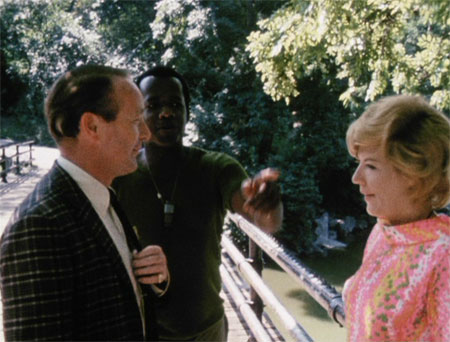 So I guess it is no sur­prise that when some­one with Hollywood clout like Steve Buscemi saw the thing and won­dered where the promised Take Two was, that a new film got made. This is very very bad. Take One ex­ist­ed in a her­met­ic en­vi­ron­ment, no one knew more about the film, no one knew the truth. The re­sult­ing Take Two and a Half is ut­ter­ly dis­ap­point­ing. Made with the help of Soderbergh, it is shot with DV cam­eras, has Steve Buscemi in it, and lacks all of the punch of the orig­i­nal and al­so takes away from the original's mys­tery. There is a bit of ten­sion at the end when a mim­ic act­ing coach shows up, but it was ob­vi­ous­ly staged, and while it is an­oth­er ex­am­ple of metafilm­mak­ing, at the same time it is like see­ing the same card trick over again. Even though Buscemi meant well, Take Two and Half should have nev­er been made. I rec­om­mend watch­ing the first one and not the se­quel, that way it will re­main mind­blow­ing­ly in need of analy­sis.