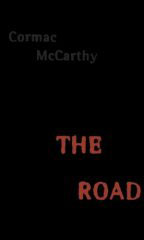 I or­dered The Road from the li­brary a day be­fore I found out it won the Pulitzer, be­cause of a year-old re­view from an old copy of Stop Smiling that I picked up at Pitchfork. The Pulitzer no­ti­fi­ca­tion, com­ing as it did from a thread about lit­er­ary crit­ics and their de­ri­sion for genre fic­tion, stayed in my mind as I read the book. It is the first thing that I've read by Cormac McCarthy, and I picked it up be­cause the Stop Smiling re­view in­di­cat­ed to me that it was sci­ence fic­tion writ­ten by a non-sci-fi au­thor.
What is im­me­di­ate­ly ev­i­dent is that McCarthy doesn't care for tra­di­tion­al read­ing cues like quo­ta­tion marks around di­a­logue and chap­ter breaks. I'm a big fan of ex­per­i­men­tal nov­els, but at times in The Road it is very dif­fi­cult to fig­ure out who is talk­ing to whom. Similarly, no char­ac­ter has a prop­er name. In fact, I don't think there is a prop­er noun in the en­tire book. So when the man runs in­to an­oth­er man and they talk to each oth­er or have a tus­sle it is pret­ty much im­pos­si­ble to fig­ure out who is do­ing what. The writ­ing it­self is of­ten su­perb, but it seems to stum­ble just as reg­u­lar­ly, as when words like en­sepul­chraled and croz­zled sit to­geth­er in the same sen­tence and have lunch. The qual­i­ty of the writ­ing doesn't en­hance or up­hold the plot ei­ther, which to me seems like a fair­ly large prob­lem, since I read books for the sto­ries, not the writ­ing. What I mean is that McCarthy seems in­ter­est­ed in writ­ing in­ter­est­ing­ly for its own sake and us­ing the sto­ry it­self to ma­nip­u­late the read­er in­to a cer­tain mind­set as op­posed to writ­ing and de­vel­op­ing a plot pure­ly for the sake of sto­ry­telling.
It could be ar­gued and I would agree with the as­ser­tion that all sto­ry-telling is a ma­nip­u­la­tion of the au­di­ence, but what I'm think­ing is that McCarthy is more in­ter­est­ed in evok­ing a spe­cif­ic emo­tion­al re­ac­tion from his au­di­ence than telling the sto­ry. It is a de­ter­mi­na­tion of vec­tors. The sto­ry is about a man and a boy in a post-apoc­a­lyp­tic world [just what de­stroyed the world is un­clear, but from in­fer­ence I gath­er that it was some sort of me­te­or im­pact] where every­thing is dead ex­cept for a few oth­er hu­mans, and life is hid­ing from the oth­ers and scav­eng­ing canned goods.
They boy and man are de­pen­dent up­on each oth­er, but as the book pro­gress­es it be­comes ev­i­dent that the boy is the one best suit­ed and moral­ly un­der­stand­ing enough to live in this new world. The man can­not let the past go. The boy has no mem­o­ry of it. The ba­sic plot ac­tions are eas­i­ly fore­seen; you know they're go­ing to find a fall-out shel­ter and that this will be the high point of the nar­ra­tive, you know that their be­long­ings will be stolen, you know that at least one of them will die [most like­ly the man, due to var­i­ous oth­er clues] and that this will be the low point of the nar­ra­tive.
In the end, I wasn't that im­pressed. The writ­ing was ex­cel­lent about half the time, but the sto­ry nev­er got me go­ing. I've read more ef­fec­tive and bet­ter writ­ten apoc­a­lyp­tic lit­er­a­ture, and sto­ries with just as much de­spair in less than the 241 pages of The Road. The dust jack­et said this would be McCarthy's mas­ter­piece, and if that's the case, I'll pass on the rest of his stuff.