A part of this view­ing list: Criterion Collection Spine #21: David Cronenberg's Dead Ringers.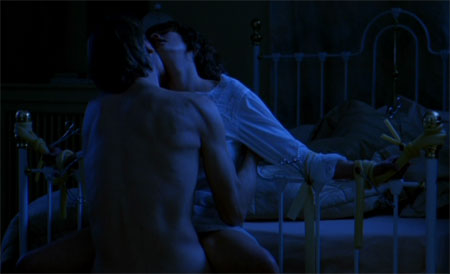 Dead Ringers is based on a true story about iden­ti­cal twin gy­ne­col­o­gist drug ad­dicts; both played by Jeremy Irons. The film is a psy­cho­log­i­cal thriller deeply con­cerned with ob­ses­sion, sex­u­al­ity and co-de­pen­dence. Cronenberg doesn't overdo the shots that con­tain both Mantle broth­ers, but the most ef­fec­tive as­pect of the film is also the sub­tlest, there are vir­tu­ally no ex­te­rior shots apart from the be­gin­ning and end. So the en­tire film oc­cu­pies a claus­tro­pho­bic in­ter­nal space both phys­i­cally and psy­cho­log­i­cally, and these spaces tend to re­flect each other as the plot de­vel­ops. The twins are Elliot and Beverly, both male, Elliot the old­est and ex­tro­verted, the busi­ness­man and mar­keter of the two; Beverly younger and re­served, the med­ical ge­nius. They share every­thing, in­clud­ing pa­tients, in­clud­ing bang­ing pa­tients. In par­tic­u­lar, an ac­tress with a tri­fur­cated uterus named Claire Niveau. Jesus Christ, you've gotta love Cronenberg.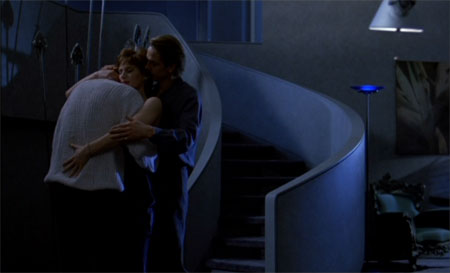 Beverly be­comes at­tached to Claire and vice versa, un­til she learns that she banged Elliot ini­tially. They break up but get back to­gether. Beverly's love of Claire be­gins to sep­a­rate him from Elliot and their re­la­tion­ship changes in small ways at first, but when Bev starts pill-pop­ping his per­son­al­ity be­gins to de­grade rapidly. His nadir re­sults in his at­tempts to op­er­ate on a us­ing "gy­nae­co­log­i­cal in­stru­ments for op­er­at­ing on mu­tant women". Elliot has his own psy­cho­log­i­cal ec­cen­tric­i­ties as­so­ci­ated with his twin­ship [at one point he gets twin es­corts and has one of them call him Elliot and the other Beverly]. He also at­tempts to score a three­some with his brother and his girl­friend. When detox­ing Beverly fails, Elliot de­cides that he needs to start tak­ing drugs as well to get back on the same wave­length, so they can get off the drugs to­gether. They de­serve a Darwin Award for that idea.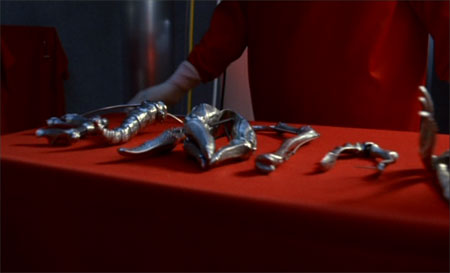 There is no easy res­o­lu­tion to the myr­iad ques­tions about gen­der, ab­nor­mal phys­i­ol­ogy and psy­chol­ogy, sex­ual de­viance and re­la­tion­ships that are raised in this film. The res­o­lu­tion in­stead comes in the form of an ab­horred pity for the Mantle broth­ers and a feel­ing of re­lief that such trou­bled souls find their rest. Meanwhile, the ca­sual viewer is left with the need to ex­am­ine his or her own pre­dis­po­si­tions about the na­ture of hu­man re­la­tion­ship and cul­tural con­for­ma­tion. In this sense, this film owes a debt to Tod Browning's Freaks. The ref­er­ences to the first set of con­joined twins is also rel­e­vant in this con­text, and the moral of the film, if there is one, is that de­viance from the norm has dis­as­trous con­se­quences, even if the de­viant par­ties are in­no­cent in and of them­selves. Or per­haps, that the heavy pres­sure to con­form has dis­as­trous con­se­quences to of­fer an­other side of the same coin.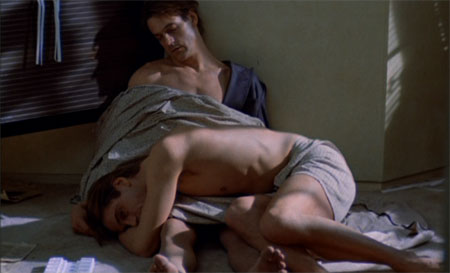 Cronenberg on Cronenberg
Trailer