I'm post­ing this now because I'm not going to have what it takes to post it in a week.
10 years ago I start­ed dog fos­ter­ing with Sec­ond­hand Mutts. My son's mom had moved out, I was going through a nasty cus­tody bat­tle, and get­ting to spend time with my tod­dler was very uncertain.
The sec­ond dog I fos­tered was Sum­mer fka Des­tiny (She only every had strip­per names). A leg­gy, black, 2 year old lab/hound mix who had the spent half of her life in shel­ters and fos­ter care. No one knows what her pup­py-hood was like, but her timid­i­ty and fear of men gave some clues. She hopped up on my bed as soon as we got home — I clapped my hands and said "no!" and she nev­er did it again. Not even when I want­ed her to. I fos­tered her for a few weeks and one day my son said "I like Sum­mer." and that was that. We adopt­ed her.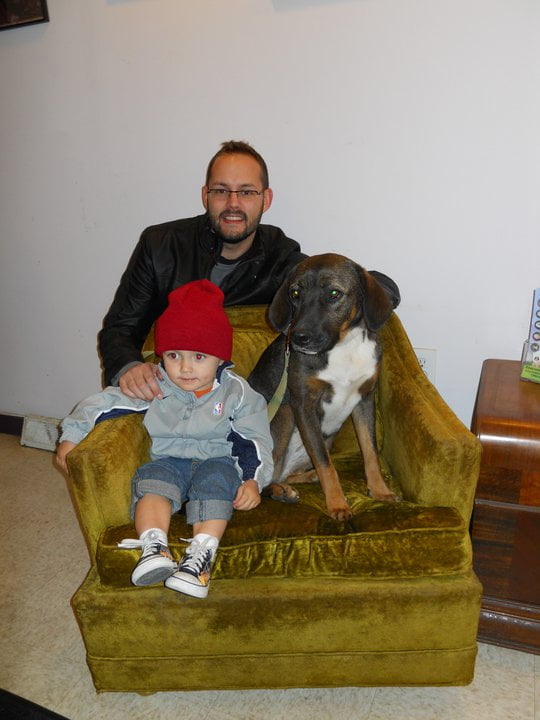 I was­n't a fan of the name Sum­mer, but I kept it because I want­ed her to final­ly have some stability.
And now she'll soon be dead, and I made the deci­sion to kill her, and I'm not look­ing for­ward to wad­ing through all these tears that hon­or the bless­ing she was to my life these past 10 years. Some­thing is killing her slow­ly, and I am going to do for her what I hope some­one has the strength to do for me one of these days.
She is a great dog, and as my dear friend Zena told her, she "did such a good job."
Young Sum­mer (pho­to cour­tesy Bec­ca Riker)

First Hal­loween

Snow heart

Learn­ing about horses

Hot Dog Tongue

Pre-Sass

Sass

Blonde Roots

Keep­ing warm with Gilbert

Sum­mer Hikes

Sum­mer Hikes

Bath Time

She was most­ly tongue

Hot, get­ting old

Sum­mer

&

Zena "Some­one left a grand­ma at my door this morning."

Cliche

A dog and her boy

Still inter­est­ed in neigh­bor­hood gossip

My sweet girl.
One of the first things I real­ized about Sum­mer is how much she loved and pro­tect­ed my son. When he was with me, she would sleep in his door­way, fac­ing the front door, every night. I would take her with me to pick him up from preschool, and she would sit down and calm­ly accept all of the rough atten­tion that a dozen 3 year olds provide.
She almost nev­er came when I called her, and this has always hurt. She nev­er pooped on a walk, so I nev­er had to car­ry dog­gie bags. Ini­tial walks with her were some­thing — she would pull one way, and my tod­dler anoth­er, but even­tu­al­ly she set­tled down and became very good on a leash, unless she want­ed to sniff some­thing. Then she'd plant her paws, low­er her cen­ter of grav­i­ty and become immov­able. She was always best off a leash though — kept near me, and would nat­u­ral­ly heel when I called her. Our ram­bles in the woods are some of my favorite mem­o­ries. She would sit with her butt in the snow, and not care. I don't think she even felt it. She loved the win­ter, and in the sum­mer I would get her shaved. She looked ridicu­lous, with her yel­low lab under­coat, and a black stripe down her back to her otter tail.
An incor­ri­gi­ble gos­sip, she loved to look out of the win­dow and silent­ly watch peo­ple and dogs go by. When I would come home from work, I would see her nose peek­ing from behind the cur­tain. Her favorite prank to play was to hide in the shade or behind a plant until some­one had walked past on the side­walk, and then sneak up behind them and bark like the dickens.
Her fur. Damn am I going to miss pet­ting her. She has this glo­ri­ous dewlap that was soft­er even than her per­ma-pup­py ears. I used to joke that when she died I was going to get that part of her pre­served so I could pet it for­ev­er. I'll be putting her in the ground whole, though. Its an hon­or she deserves, and my final respon­si­bil­i­ty as her friend all these years.
She used to howl when my son played his har­mon­i­ca, and I taught her how to sing on com­mand. She loved lit­tle chip­munk squeak­er toys and would howl around those mouth­fuls in what I called a toy­gasm. In her youth, she used to for­get I was home some­times and I'd start see­ing toys fly up into the air from behind the couch. She used to love to play fetch, but in her final weeks, she only put a ten­nis ball in her mouth when my son arrived for his week with me. She whuffed like a pup­py when she dreamed.
She nev­er barked to be let out­side or inside. Then I fos­tered Susie Q Cream Cheese — the worst bas­set hound of all time — and she learned that bark­ing would get you back inside. Instead of bark­ing a bunch though, she'd give one dif­fi­dent woof. She was a dear heart.
She end­ed up in a lot of poems — only a cou­ple are on here though. I might make a lit­tle chap­book of them in her memory.
She was a bal­ance to all my bad sides. She was my only com­pan­ion and emo­tion­al sup­port through years of lone­li­ness and depres­sion. She taught me so much about accep­tance of things out­side of my con­trol. Her soul is going to flick­er out soon — and this brief pre­cious world will become a mite poor­er. I am so grate­ful that I was able to share in her life — all of these tears must be worth it.
ah     i     must 
take my   beast's
shape   out of me 

and          fill
a        hole dug

by         myself

thy flag hide now
glorio us of dirt
oppos it e  to my
r ough   p   arts

o ur last p   act

o               h 

trem    u    lous
you  always  knew

i  would  be  the 
death  of     you




where  will i put
m               y
dirty hands   now

how deep do i dig 
a     dog's grave
and      will the 
grass grow  sweet 
there